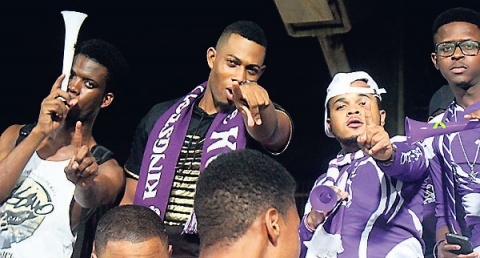 FORTIS CADERE Cedere Non Potest! The Brave May Fall but Never Yield!" was the chant echoing after the final whistle blew for the 2017 ISSA-FLOW Super Cup. On November 25, football followers crowded the stands of Sabina Park to see their school emerging victorious in this year's ISSAFLOW Super Cup football competition.
Kingston College the Purple Giants from North Street, battled St Elizabeth Technical to see who would be given the bragging rights to be this year's title holders. The match commenced with an early goal from Rashawn Mackison, who somewhat dominated the day, scoring shortly after, then finishing with a hat-trick to lead his team in a whopping 3-0 victory.
This and other memorable moments awarded him both the MVP and Golden Boot titles, which many players only dream about. After coming from a major defeat by Jamaica College in the Walker Cup final, Ludlow Bernard can now lead his team with the beautiful crystal trophy, and an approximated earning of $1 million from the three games from which they emerged victorious.