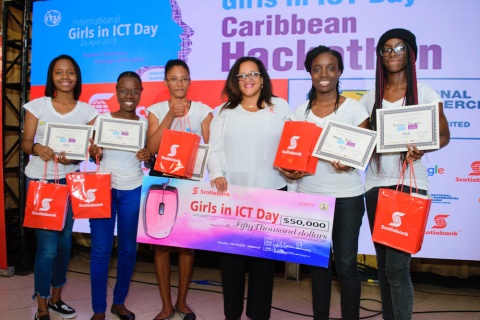 Kingston, Jamaica - Thursday, May 3, 2018: Anticipation was high for the second staging of the Girls in ICT Day Caribbean Hackathon last Thursday, April 26, 2018, organized by woman-led, SheLeadsIT and Change Makers Development. The girl hackers enthusiastically filed into the UWI Mona Visitor's Lodge to participate in various hackathon activities including website and mobile app development, podcasting, animation and gaming.
The theme of the event was #SafeGirlsSafeFuture and featured 18 hackathon teams from high schools, Universities an Colleges, across the island. The girls used their digital technology skills to designed innovative  products, services and solutions which addressed the safety of Caribbean girls and women to ensure they are #HomeSafe, #StreetSafe, #CyberSafe and #RelationshipSafe.
At the end of a nearly 12-hour day, Westwood High School and Northern Caribbean University (NCU) emerged as the first place winners in the high school and university-college categories, respectively. The Westwood team focussed on being #streetsafe when taking public transportation, and created a mobile App, 'Plate Alert' which allows commuters to access passenger reviews and information on a taxi driver using the cab's license plate number. 
Bryanna Hylton, a sixth form student from Westwood High School, could barely contain her excitement, and described the experience as life-changing and inspirational. "This is a big accomplishment for us! I'm just very happy right now. It wasn't an easy day, at some points we all felt overwhelmed because our minds weren't settled and we had to start over multiple times before we came up with the right idea." The school will use the prize money to carry out infrastructural upgrades to the school's technology department.
NCU lecturer Damion Mitchell was equally overjoyed and expressed delight at the team's triumph for the second year in a row, with their focus on being #cybersafe. NCUs 'Block It' app blocks individuals from all social platforms with the click of a button.
NCU team member Mickalia Grant echoed similar sentiments. "We are delighted to have won this year. A lot of hard work has gone into our efforts and now look at the results! The safe girls theme is one that we as young women can really relate to. We decided to go the cyber safety route to keep the ICT feel and provide a solution to common problems like stalking and bullying."
The GICT Day Caribbean Hackathon provides a platform for young girls to be pioneers in the technology field by using their digital technology and creative skills to develop solutions to social issues. This initiative exemplifies the important role of public-private partnerships, with the leadership of Scotiabank Group, our regional sponsor, along with Google USA, Phase 3 Productions and Loop with country corporate support from National  Commercial Bank Jamaica and FLOW.