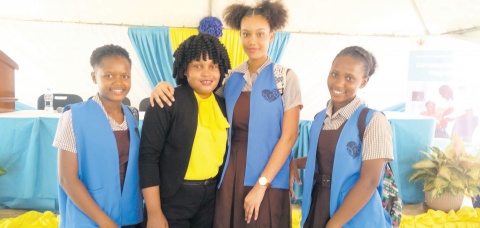 Shakera Hanson-Powell (centre) shows off her Regional Award for Excellence in Teaching. Surrounding her are (from left) Stevon Sheriffe, JP; Peggy Wellington-Porter; Clines Hanson-Whitely; and Keton Hanson.
At 25 years old, Shakera Hanson-Powell is one of Black River High's most dedicated educators, and this is while also being an outstanding community member and the Youthlink sales coordinator at the school. A native of St Elizabeth, Hanson-Powell is breaking down all barriers and defying the status quo. Youthlink caught up with the 2019 youth parliamentarian and this is what we found out about the balancing act she has now mastered.
Youthlink (YL): Which schools did you attend, and when?
Shakera Hanson-Powell (SHP): I attended Austin Primary School and then St Elizabeth Technical High School from 2005 to 2010. I wanted to become a lawyer or a teacher, but the funds were not available to study law. I enrolled in Church Teachers' College in Mandeville, where I completed teacher training in secondary education, double option English. I have also completed a short course in supervisory management at The University of the West Indies Open Campus.
YL: When did you start teaching at Black River High School?
SHP: I started duties at Black River High School in September 2017, and obtained permanency in September 2018. Before now, I have taught at Muschett High School and Alston High School. I have also worked as a pathway coach on the Alternative Pathway to Education Programme at Christiana High School.
Currently, I am a member of majority of the internal committees at Black River High School and I received an award in May 2018 for being the Most Outstanding Teacher from my department. In November 2018, I received a regional award from the Jamaica Teaching Council and the Ministry of Education, Youth and Information for Excellence in Teaching.
YL: Why did you enter teaching?
SHP: I entered teaching because I have always been good at it. It might sound like an overly confident response, but it is true. No matter how bad my day is going, my classes always turn out good and my students are engaged. I could not be an incompetent teacher, even if I tried. From a very young age, persons would tell me that I am very good at simplifying concepts and that I have a 'teaching voice'. The truth is, teaching has always been my preference, but I am disheartened by how teachers are treated. I really don't think teachers get the level of appreciation that they deserve from the education ministry and other stakeholders. Nonetheless, we continue to make the most of the little resources at our disposal.
YL: Talk about your role as Youthlink sales coordinator. What does it involve and do you believe Youthlink is a necessary tool for your students?
SHP: Being a Youthlink sales coordinator involves accountability and promoting the publication in such a way that students will see the need to purchase copies. Currently, the Grade 11 and CAPE students use them in classes. My students know they are supposed to cut out the sections for the CSEC subjects they are doing, glue the section in their notebooks and complete the activities. During my high-school years, I found Youthlink to be very effective and my students are now buying into the idea. Youthlink helps to bridge the gap for teaching time lost. The students have realised that the CSEC guide is in line with the current trends of the CSEC past papers, plus it is very resourceful and economical.
YL: You are actively involved in your community. Talk about some of your roles as community member.
SHP: Currently, I serve as one of seven directors for the Black River Hospital Foundation, I am recording secretary for the St Elizabeth Parish Development Committee, I volunteer for the Compassionate Care Programme at Black River Hospital, I am a member of the National Integrity Action and the Scholars' Initiative Foundation that is Mandeville-based. I am the go-to person in my community when it comes to compiling letters, doing motivational talks and emceeing.
In summer 2018, I launched The Shakera Hanson Award for Community Involvement, and this award is geared at rewarding one resident in the Myersville area who is very active in the community. This award is presented in August at the annual Sports Rush event in Myersville, St Elizabeth.
YL: Why is it necessary to be a rounded individual?
SHP: I don't think accomplishments lies solely in academics. Whenever I attend interviews, my voluntary work is usually a high point. Some candidates struggle to answer the interview question, 'What else do you have to offer?' This is where volunteerism and our special capabilities should take precedence. Qualifications land you an interview, so when you show up, the interviewers will want to know things they don't already know. I must also mention my adopted father, Sean Brissett, is parish manager for St Elizabeth Ministry of Health. Where I grew up, voluntary groups weren't established. He invited me to a meeting for the St Elizabeth Health Foundation and from there I have been co-opted into other groups.
YL: What advice do you have for students to become better versions of themselves?
SHP: I'd advise students to never settle, even when things are going well. To students who are from extremely challenging backgrounds, I'd encourage them to press on and see education and volunteerism as their vehicle out of poverty and any other challenges. Through volunteerism, one can build networks and never know where one may end up.