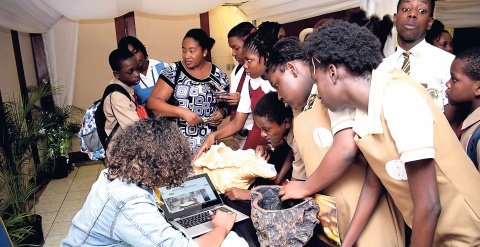 Elizabeth Goodleigh had students from Charlie Smith High fascinated by the fact that 360Recycle is using waste to create beautiful works of art and even playgrounds.
Scores of students and teachers converged on the Montego Bay Convention Centre recently to celebrate Global Social Enterprise Day 2018. The event, put on by the British Council, was a part of Global Entrepreneurship Week and a strategic activity for their multiyear Social Enterprise in Secondary Schools Programme, a partnership with Victoria Mutual Foundation Limited, with the support of the Ministry of Education, Youth and Information (MoEYI).
Participating in the proceedings were 13 of the 14 schools which are now a part of the programme – St Elizabeth Technical, Montego Bay, Charlie Smith, Greater Portmore, Denbigh, Cumberland, Holland, Spot Valley, Glenmuir, Herbert Morrison Technical, Guy's Hill, St Jago, and Westwood high schools. The students engaged with current social enterprises and corporate heavyweights to gain more insight on the work it will take to set up their own social enterprises.
The day was highlighted by presentations that are critical to developing a successful social enterprise. These included a presentation on loving social enterprise by Nadene Newsone, one on financial literacy by Sarah Meany, another on accounting by Ezmond Farquharson.
Presentations on product
development by Andre Robb, and on marketing your social enterprise, by Kristofferson Nunes, were also made.
The aim of the Social Enterprise in Secondary Schools Programme is to increase students' knowledge of social innovation and entrepreneurship. Using the British Council's Social Enterprise in Schools Resource Pack, which also incorporates the British Council's core skills, it is expected that this programme will help to address the gap in global skills development which is critical to meeting the needs of students in the 21st century in a globalised economy. In addition to the six core skills – critical thinking and problem solving, collaboration and communication, creativity and imagination, citizenship, digital literacy, and student leadership – the programme will also include financial literacy as the seventh core skill.
Damion Campbell, social enterprise and youth engagement programme manager at the British Council, gave an overview of the programme and hailed the social enterprises and other agencies for their support in the success of the pilot phase.
"The Social Enterprise in Secondary Schools Programme affords a large population of our young people the opportunity to garner a more global outlook on the prospects of their lives as they transition  through high school while creating change in them and for those around them. We could not have made it this far without the support of the social enterprises and other agencies that travelled with us across the island to the schools to raise awareness around social enterprises. A special thankyou to EducaTours Ja, Link Your Purpose, 360Recycle, the Planning Institute of Jamaica, Youth Can Do IT, Bartley's All In Wood, Braata Box & Co, Deaf Can! Coffee, UCA Jamaica, Bresheh, and the Ministry of Industry, Commerce, Agriculture & Fisheries. Last but not least, a special thank you to the Victoria Mutual Foundation for their commitment to the development of young Jamaicans."
Daeshanell Powell, ninth-grade student at Westwood High School, shared why she was looking forward to being a part of the programme. "I believe that social enterprise creates opportunities for Jamaicans. This is because we can use these businesses to deal with different problems that the country faces, such as poverty and pollution. It also provides job opportunities for those who are unemployed."
During the post-lunch period, students and teachers were able to engage the social enterprises and learn more about their journey over the years. The event was also one of the hundreds that participated globally in the social enterprise #WhoKnew digital campaign.