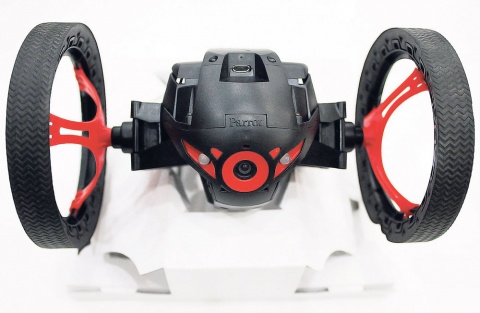 Let's Face it, once the school bell rings on the final day, declaring that summer has officially begun, most high-schoolers will be looking for somewhere to go or something fascinating to play with. Whether it's a stylish, new, wearable device, game-changing gadget or one that will keep all your social media followers glued to see your next post, there is one device waiting for you to just grab it and go.
From necessary items like chargers and game consoles like the Nintendo Switch, Youthlink has selected its top 15 portable device must-haves for summer. These items will make the long break pleasurable, but keep your brain occupied as well. Choose one that matches your style and personality!
1 Wrapped headphones: If you spend half a day searching for earbuds or untangling headphones, then meet the solution to the problem. The Maxell Wrap'd Earphones come in a protective silicone that makes it easy to store and uncoil when needed, so more time can actually be devoted to using them.
2 Foldable stereo headphones: Wired headsets can be such a hassle, even with fancy cases to store them in. For someone who's always on the go, wireless, Bluetooth-enabled headphones like these by Klip Xtreme are  mobile-device-ready and also have a Micro SD card. The design is a plus that says 'take a look on the bright side' with the neon green and LED lights for added effects.
3 Smart wristbands: Self-care is important and having a gadget that can help monitor the calories consumed, heart rate and distance travelled, plus count steps in addition to tell the time and synchronize with a mobile  device, will make it much easier. Just think, all the junk food eaten and activities can be monitored with a stylish Axxis Smart Bracelet.
4 Battery packs: Nothing can ruin a good girls' day out this summer, or Snapchat moment, more than a dead phone battery. No matter your personality, there is a portable battery charger that will keep your phone ready for the occasion.
5 Lighted USB cable: There's no cuter way to charge a phone or tablet than with this attractive Emoji-design, lighted USB cable. It can also be used to sync the device, and the multicolourchanging cable lights makes it easy to find it in the dark.
6 Braided USB cable: If you have a habit of twisting the USB cable in many directions, then the Rugged Apple Lightning Cable is for you. It has protective nylon casing and a spring coil that makes it durable.
7 Action camera: We all have that one friend who posts unbelievable images taken with a smartphone that may be a current model with a high price tag. Coated in a glossy silver finish, this classic point-and-shoot Vivitar Wi-Fi Action camera is equipped with all the features and also has a waterproof case to take great underwater shots. It goes for less than $20,000 and weighs less than 3 ounces; good things really do come in small packages.
8 Mini drone: Outdoor lovers who share an equal interest in investigating will be able to keep busy with the Parrot Mini Drone, 'Jumping Sumo'. Control it with a smartphone that can coordinate live video  streaming/recording. Test your drone driving and video production skills this holiday.
9 Bluetooth speakers: This device literally comes in handy, as it is outfitted with Bluetooth and Wi-Fi capabilities to play music directly from a mobile device. The Argom brand is lightweight and produces sound of high quality.
10 Samsung Galaxy Tab-A: Though model SM-T285 is not the newest tablet, with mobile-enabled features it has proven itself reliable. Long battery hours, satisfactory camera quality and affordability are just some of its advantages.
11 Android TV Box: With seemingly endless streaming options, there's really no need to beg Mommy and Daddy to get a cable package just for the summer. An Android TV Box with mini keyboard and remote is a better option, especially because you can move around from one home to another without a bill.
12 Multifunctional lights: Whether having a small gettogether with your friends at home or just afraid of the dark, the AA battery-powered Play Bulb Candle is the perfect multifunctional light for any setting. Blow it off or on, choose from different colour settings, and play music from the accompanying app for both iOS and Android devices.
13 Gaming keyboard and mouse: This one is for the gamers; the Marvo Scorpion wired gaming keyboard and matching mouse will enhance any video game lover's performance. The multimedia device may not be very portable, but it is practical for young adults who stay up late to play video games. It comes with a soft pad to complement the easily held mouse and backlit design to find keys in the dark.
14 Gaming consoles: Playing games may be difficult, especially with many of your friends taking vacations out of town or even off the island. A console like this PlayStation 4 (PS4) can bridge the distance if you wish to
splurge all that saved-up lunch money. Then, just log in and play live games like Call of Duty and Grand Theft Auto with easy communication.
15 Nintendo switch: This console had to be put in a category by itself. Its versatile, hybrid design – having two joystick-controller (joy-cons) that can detach anytime or anywhere from the tablet – makes it easy to switch from at-home gaming to handheld mode. Any Mario Kart fan would be happy to have this gadget if they don't already have it.
The products mentioned in this article were provided courtesy of Royale Computers and Accessories, located at Shop #31 Pavilion Mall, 13C Constant Spring Road. Telephone: 906-1067, 906-1068 and 754-5048.
Nike Air Force 1 07 LV8 Utility White AJ7747-100 Shoes for Sale – Buy Best Price Adidas&Nike Sport Sneakers