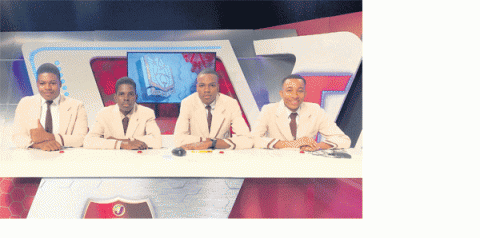 PHOTOS BY LIONEL ROOKWOOD/PHOTOGRAPHER
The week started with the unexpected! Titchfield High School has been eliminated from the 50th season of the Schools' Challenge Quiz competition by Central High School.
Titchfield won the coin toss and elected to go first. As one would expect, Titchfield was in the lead after the Opening Challenge, which ended with them on seven to Central High School's four points. Titchfield widened the gap during the Speed Challenge, which concluded with them having 22 points to Central High School's 12 points.
After queries, Titchfield gained another point and went into the buzzer section with 23 points. This is where everything changed. Central High was meticulous in their responses and ended the buzzer section on 22 points, though Titchfield had 25. However, after queries, Titchfield lost four points for a question which was initially given as correct, but was later rejected by the judges. Central High School will be moving on to the next round of the competition.
OLD HARBOUR VS MAGGOTTY
Old Harbour High School and Maggotty High faced off in the next match. The ladies of Maggotty fought very hard for the victory, but Old Harbour High School was quicker and more prepared. Maggotty led the opening challenge by one point but Old Harbour High School took over in the Speed Challenge, which ended with them on 19 points to Maggotty's 16. The victors were dominant in the Buzzer Challenge, during which Maggotty did not make an attempt until two minutes into the section. Neither of the teams answered during the Buzzer Challenge unless they were absolutely sure of the answers, therefore, many questions went to time. Old Harbour High School advances, having scored 25 points to Maggotty High School's 18.
ST JAGO VS KNOX COLLEGE
St Jago High School and Knox College were up next and had what some would consider a controversial match. Both teams seemed evenly matched and ended the Opening Challenge on six points each, until Knox lost one point after queries. The Speed Challenge showed that both teams were hungry for the victory. St Jago High School ended the round on 28 points, but lost one point after queries; and Knox College ended on 27 points, but then lost two points. It was St Jago High on 27 points and Knox College on 25 points going into the Buzzer Challenge. It was still anybody's match, but Knox College felt pressured, which resulted in the team buzzing too soon to questions that were incomplete. According to a Knox teammate, the disruption from St Jago High School helped to cause their demise. St Jago apologised for the disruption, however, it was already too late for Knox. The match ended with Knox College on 15 points and St Jago High School on 35 points.
JAMAICA COLLEGE VS CAMPION
Jamaica College and Campion College were up next. Campion won the toss but allowed Jamaica College to go first. The Opening Challenge ended with Campion in the lead on seven points and Jamaica College not far behind on four. The Speed Challenge was much of the same, with Campion College holding on to the lead at 20 points and Jamaica College not far behind with 17 points. The Buzzer Challenge and match ended with Campion College winning on 26 points to Jamaica College's 19 points.
The first match in this week's double-header was between Kingston College and Manning's School.
Kingston College showed their dominance in the match and led from the beginning. The Opening Challenge ended with Kingston College on five points and Manning's School on three points. This continued in the Speed Challenge; however, Kingston College widened the gap and ended with 27 points to Manning's 20 points. Kingston College then hardly gave Manning's a chance to attempt a question in the Buzzer Challenge, but Manning's would not go down without a fight and scored 24 points to Kingston College's 39 points to mark the end of the match.
CORNWALL VS CALABAR
Cornwall College faced Calabar High School to close out the week of matches. Cornwall won the toss but opted to let Calabar go first. The Opening Challenge ended with both teams on five points, but Calabar soon created a gap by the end of the Speed Challenge. Cornwall College had earned 18 points and Calabar High School scored 20 points, then received an additional three points after queries. Calabar remained composed during the Buzzer Challenge and were quicker to the buzzer as a result. Cornwall put up a fight, but only to increase then decrease, ending the match on 18 points to Calabar High School's 27 points. Calabar will move on to the quarter-finals.