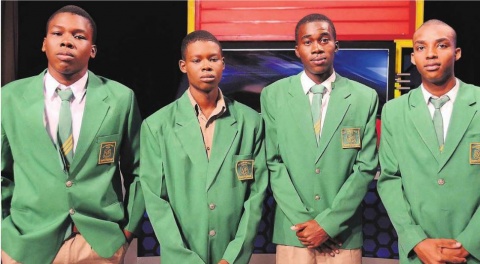 Old Harbour High (from left): Dujain Jordon Nickoli Ashley, Chavaughn Gordon, and captain Stallone Francis
On to round three
Week nine of this season's Schools' Challenge Quiz saw the three final matches of round two taking place. Immaculate Conception, Manchester High and Calabar High all won their contests to move on to round three of the competition.
Thursday also marked the start of round three matches with Ticthfield High and St Mary High facing off in the first match. The number one seeded team, Ticthfield High, was able to fend off their competitors and win the match with 26 points to St Mary's 18 points.
Match 50, which took place on Friday, left a few viewers surprised when Old Harbour High narrowly defeated the Wolmer's Boys' team in an exhilarating contest. The match got off to a slow start and at the end of round one, Wolmer's were in the lead on 4 points and Old Harbour were behind on 2 points.
The tables would turn in round two of the contest when Old Harbour garnered a two-point lead over Wolmer's at the end of the round. The score read 19 to 17 going into the buzzer section. Old Harbour fought hard to remain in the lead up until the last bell. There were cheers of excitement in the studio when Old Harbour were announced the winners of the contest. The final scores of a very close contest read Old Harbour 23 points and Wolmer's Boys' 21. 

The winning team from Manchester High. From left: Kejhawn Brown (captain), Ruth-Ann Blair, Ashli Sivera, and Tristen Spencer.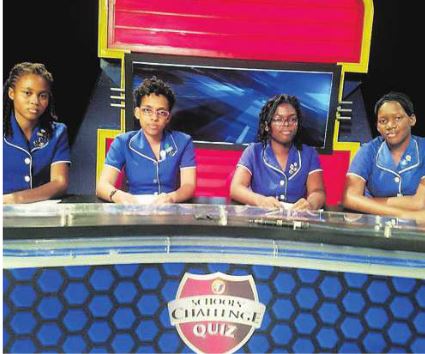 From left Crystal Clark (Captain), Vania Hume, Shania Douglas and Jaleel Swaby 
Air Jordan 1 Retro High OG "Board of Governors" White/Black-Royal Blue