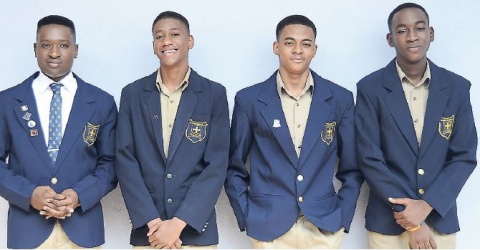 The winning Titchfield team (from left): Javian Anderson (captain), Ali-Andro Thaxter, Mathew Carby
and Rushawn Stewart.
THIS SEASON of Schools' Challenge Quiz got off to a great start for the number-one seed,Titchfield High School. The Portland-based team was able to secure victory in its first match of the season against Winston Jones High School from Manchester.
The first round of the match was a close one, with Titchfield ending on seven points and Winston Jones,six. Titchfield did most of the speeding in the speed section, ending on 28 points to Winston Jones' 16.
Titchfield High continued to dominate throughout the buzzer section and by the end of the match, the scores read Titchfield 40 and Winston Jones 14 points. Titchfield scored the most points for week one of the competition.
Team captain Javian Anderson says the team did what was needed to be done in order to be the victors. "We will be working even harder to return with an improvedteam." Anderson told Youthlink.