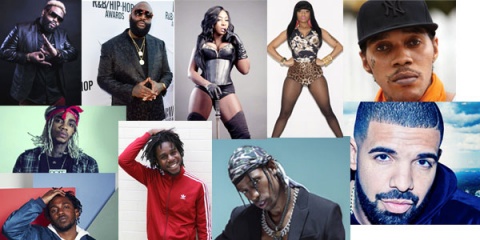 Our local artistes are known to us for a variety of reason, the main one being their manipulation of our distinct Jamaican sound. Whether it be Dancehall or Reggae, DJ-ing or singing, we know a Jamaican artiste when we hear one. But have you ever thought of their other traits, traits that might prove them similar to other, international artistes? Similarities between local and international artistes can be found in their appearances, public personality, lyrics and musical style. Here are seven Jamaican artistes who share such similarities with what we could now call their international equivalent:
5. Demarco and Rick Ross
            Collin Demar Edwards (Demarco) and William Leonard Roberts II (Rick Ross) are both notable artistes in their game, each noted to have worked with seven total record labels since the beginning of their respective careers. However, with Demarco being a Reggae/Dancehall artiste and Rick Ross known almost exclusively for rap, there is little with which to compare the two in terms of music. But that doesn't stop us from noting the uncanny similarities in their physical appearance. With only 6 years between them Demarco, 35, and Rick Ross, 41, could pass for brothers. 
4. Spice and Nicki Minaj
            Grace Latoya Hamilton (Spice) and Onika Tanya Maraj (Nicki Minaj) are arguably the two most dominant female acts in their country's music industry. Both women are 35 years old Caribbean-born singers and songwriters. While Minaj is known mostly for Rap and Spice for Dancehall, the artistes' shared Caribbean roots influence their sounds. Spices's Indicator gained her an Instagram shoutout from Minaj in February 2017. Minaj dubbed the song "my new obsession". Shortly after, Spice returned the love by telling The Star that she's a big fan of Minaj. Both Spice and Nicki Minaj stand out on the music scene with their colourful hair and raunchy styles of performance.
3. Alkaline and Travis Scott
            Earlan Bartley (Alkaline) and Jacques Webster Jr. (Travis Scott) are both young artists who have been making huge names for themselves since the late 2000s. Alkaline 24, and Travis Scott 25 each started their musical careers at the age of 16. With this among their similarities in appearance and often explicit songs, it is easy to see why these two would be compared.
 
2. Chronixx and Kendrick Lamar
            Jacques Webster, Jr. and Kendrick Lamar Duckworth are currently among the most prominent acts on the music scene of their countries. Both men were originally named after their fathers. Chronixx is known for Reggae, Kendrick Lamar is popular for his Rap, however both men are notable for their music that is considered by many to be astute social commentary. To Pimp a Butter Fly and Chronology by Lamar and Chronixx respectively reflect their shared socially outspoken nature.
1. Vybz Kartel and Drake
            Adidja Azim Palmer (Vybz Kartel) and Aubrey Drake Graham (Drake) – these two might be the most closely associated of all the names on our list. Drake would be among the first names called by rap fans in the United States/Canada. Similarly, Vybz Kartel is known to pretty much every Dancehall fan in Jamaica. The association between the two men is strongest in Drakes' own admission that Kartel is one of his favourite artistes of all time. In a 2016 interview with popular Canadian interviewer Nardwuar, Drake stated that Kartel is a legend, referring to the artiste as "Addi mi Daddy" and encouraging Jamaica to "free Worl Boss".