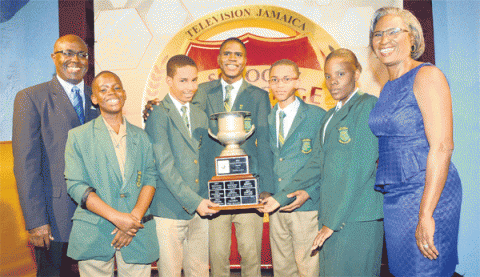 Shorn Hector/Photographer
ON Tuesday, April 2, the institution on Monk Street, Spanish Town, lifted the Schools' Challenge Quiz Cup for the fifth time in the 50 years that the compe-tition has been in existence.
The match started with the Opening Challenge, during which teams answered questions alternately.
Kingston College had won the toss but allowed St Jago to go first. St Jago took the lead at the start of the section, but was one point behind Kingston College by the time the four-minute round was complete.
Kingston College ended the round on eight points.
The second part of the match was quickly under way since the coaches had no queries. The Speed Challenge had St Jago High School quickly taking the lead from Kingston College, and ending the round on 29 points to Kingston College's 25 points. Queries were done this time, however, and St Jago lost a point, but also gained one for a question which was later accepted by the judges. It was still anybody's game and both teams were still brimming with confidence.
The deciding buzzer section was next and St Jago High School dominated, giving Kingston College little to no chance to correct the mistakes made during the round. Soon the last bell sounded and St Jago High School could finally relax and celebrate winning the SCQ cham-pionship during their 275th anniversary.
The match had initially ended 39-23, but after queries, Kingston College lost four points for an incomplete answer that was given. The 50th season of TVJ's Schools' Challenge Quiz ended with St Jago having a 20-point lead on Kingston College's 19 points.
Ricardo Loney, coach of Kingston College, congratulated their opponents for their victory, though they wanted this win. He ended the interview reminding us that 'The brave may fall but never yield', and that they will be back in 2020 to claim the title.
Mark Clark, coach of St Jago High School, was elated for the victory, as all through the competition he expressed their hard work and took it one match at a time in order to be now crowned victors.
"Praise the Lord for the win. I am very happy because we worked so hard and left no stone un-turned," Clark said. He attributed their victory to prayer and hard work. As their motto states, 'Labor omnia vincit' – 'Work conquers all'.