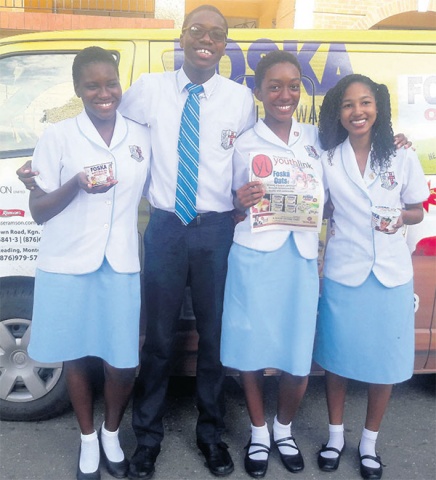 St George's College sixth-formers love Youthlink and Foska Oats products.
On September 24, Youthlink, alongside Foska Oats, visited St George's College (StGC), located at Winchester Park, 1 North Street, Kingston, for the Made in Jamaica initiative. It was a memorable experience, to say the least, from entering the well-groomed and carefully maintained grounds, to meeting the warm and friendly people – the security guards, staff and the students.
What was even more striking was the level of pride the young gentlemen expressed in their school. Even the ladies of the sixth form, who only attend the institution for a maximum two years, beamed with admiration for their school. They were all happy and very comfortable in their environment, which makes it a good place for learning and expressing themselves with each other.
Most of the action took place at the booth that was set up to promote Foska Oats and Youthlink. The students were excited to receive a free product from Foska Oats with the purchase of every Youthlink.
"I love their cornmeal porridge! It was thick and delicious," stated Nigel Wellington, an upper-school student. "The Youthlink helps the youths to be more aware of what is happening in schools and teenage life," he continued.
The products given away by Foska Oats with each purchase of a Youthlink included their almond, cornmeal and oats porridge. A representative of Foska expressed that the day was a success and that they gave away all the porridge mixes they had. Foska Oats is made in Jamaica by Caribbean Foods Limited and was founded in 1966. Foska is now celebrating their 53rd anniversary and St George's College is celebrating their 170th.
During and after the giveaway, a number of students could be seen enjoying their porridge mixes and reading their Youthlink. Their school was also featured in that publication and students were eager and excited to see the paper, spot their friends and call them out so that they could see themselves in the paper as well.
There were also some talented student deejays in a fourth-form classroom who were happy to entertain us. Other students could be seen laughing with peers and relaxing on the compound before the beginning of class; they exuded a strong sense of belonging, as if they all got along very well.
It was also prefect morning at StGC, and the stern but gentle prefects were on hand to keep the St George's College young men in line. It was clear the students had great respect for their prefects' authority and that this respect was not demanded but earned.
The teachers were also very helpful in the day's events, and the students were willing to assist in any way they could. There was also much support from the students. It was all good vibe and fun with great energy from the students, who responded positively to all the activities we had to offer them.