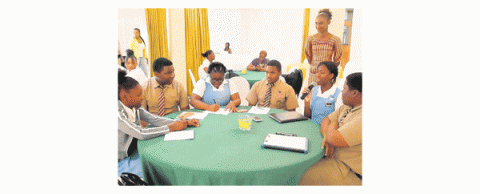 Ardenne students engaging in an active discussion with host Leneka Rhoden.
THE JAMAICA Youth Motivators is a non-governmental, non-profit charity organisation dedicated to youth development and empowerment through advocacy, mentorship and volunteerism. As a major part of our initiative as a youth-led group, we hosted a three-day series, from Friday, April 12, to Sunday, April 14, which entailed workshops with the objective of motivating and inspiring our audience of youth and adults, equipping them with the tools to drive their own success and with a renewed perspective.
DAY 1
On Friday, April 12, we hosted our first workshop under the theme 'Adapting to Your Environment'. The Mona Visitors' Lodge and Burger King were kind enough to sponsor our venue and food for the day, where we invited high schools across the island. Unfortunately, only students from a few schools, including Ardenne, Camperdown, Holy Trinity, Pembroke Hall, and Vauxhall high schools, could attend.
However, that did not discourage us from achieving our objective. Among our speakers for the day was Mayor of Kingston Delroy Williams, who engaged the youth about the use of their creative and imagination. He emphasised that our youth are the next generation to build a great Jamaica, and to enter into such an era it demands the development of the skillset and the human resources, who are our young people. One such in-demand skill is that of problem-solving: he exclaimed that every day, the world is faced with problems, and in order to solve those problems we must be critical and analytical. The key to doing this development is advancing our human resources through higher education. This was the premise echoed by the Jamaica House Fellow of the Office of the Prime Minister, Jerome Cowan, and the adviser to the minister of education, Howard Chamberlain.
Through giving salient advice to our youth and encouraging higher education, Cowan and Chamberlain aimed at dismantling the myth within our Jamaican reality that begs the question of "weh degree really a guh?" It was emphasised that though a degree increases the chances of employment, it does not refute the fact that our young people can be successful without a degree. Notwithstanding, the value is not found in the degree, but it is reflected in the years of education and training which endorse human development.
The young people who were engaged by the workshop expressed the sentiment that young people should not limit their abilities and knowledge to what they have learnt at the tertiary level. Such limitations prevent problem-solving, where persons with degrees may restrict their knowledge and analytical skills to what they learnt in school rather than allowing themselves to think beyond what is expected. That is how we, the Jamaica Youth Motivators, realised that our objectives were being achieved and our dream has begun to manifest itself through our first workshop.
What made us even more ecstatic was the discussion doctor and musician Mario Evon had with these students about 'Breaking the Mould'. After this engagement, we asked students to tweet or post a story on their social media, mentioning the Jamaica Youth Motivators, and telling us who inspired them the most, and why. Among these stories, students said that they were inspired by Evon because he encouraged them to always remember to have passion, purpose, impact, and legacy; and if they followed this and don't give up on their dreams, it will be a success with or without a degree.
Nevertheless, attorney-at-law and adjunct lecturer at the University of the West Indies, Mona, Isat Buchanan, helped these students realise that their education is the most important weapon they will have in life.
Although the student turnout was not what we had anticipated, we made do and tried our best to achieve our object with the very limited resources we had and, for that, we can say that our very first workshop was a success and an achievement we are definitely proud of!
DAY 2
Expanding our audience to adults and youth, the Faculty of Law at The University of the West Indies aided us in hosting our second workshop on Saturday, April 13, under the theme 'Real People with Real Problems'.  hanks to media personality and our speakers, we hosted and engaged in a fruitful discussion about financial wisdom, family life, and mental health issue. Wealth adviser with the NCB Capital Market Ltd, Cheryl Davy, and founder of Wealth Watch Ja Julian Morrison, both stressed the importance of financial wisdom and what it means to invest. Morrison opened by saying that "investment is putting money to work", and investment is an endeavor we need to pursue due to the time value of money. He further explained that in order to do so, and do it effectively, one must use vehicles of investments such as assets. Davy added that planning is very crucial to investing: you must determine what your goal is when it comes to investment – you have to know exactly what you want to accomplish it. Truth be told, investment is important for the individual, but for adults, family life and marriage might be a consideration.
Marriage and family life motivational speaker Damion Hylton found that family life is sometimes messy. He went on to say that marriage represents the ideal institution for the family to develop, as marriage is quintessential to family life because both are built on the premise of a lifelong commitment. The real problem of the family lies within the issue of commitment. As such, Hylton expresses that when we consider of Jamaican reality of broken homes, i.e. the Jamaican family and increasing divorce rates, we must strive to change the narrative.
A part of changing this narrative and the Jamaican reality is the perspective we have towards mental health and mental health issues as elaborated by actor, film-maker and mental health advocate Gemmar McFarlane, a professional who has struggled and continues to live, with a mental health problem. His commitment to bringing awareness to the seriousness of this reality and his drive to manage his own struggle was a major inspiration for the day's workshop. He stressed that we should speak up and speak out about mental health struggles, even those we face ourselves; and that we treat our minds like how we treat our hearts and muscles.
DAY 3
Thanks to the Eden Gardens, and our gracious hostess Ms. Terri-Karelle Reid, we were successful in hosting our final workshop on Sunday, April 14, dedicated to an appreciation for 'Heart-Healthy Habits'. With consideration to our workshop's theme, a professional trainer engaged us in a couple of Zumba workout exercises, along with tips to leading a better, healthier lifestyle. For the remainder of the day, Reid, our guest speaker, spoke and inspired us about reigniting our purpose. Speaking to her life experiences, she told us to not limit ourselves to our degrees, and not to be limited to things or else our experiences will be the same and it would be hard to establish careers. She emphasised that whatever you conceive, you will achieve, and anything you define yourself as, that is who you are. Her words of wisdom gave us the inspiration to promote and project who we are and not to focus on what others may define us as.
Without Reid, or any of our other guest speakers, or without our sponsors who believed in our cause and decided to assist us in fulfilling our vision, we could have hardly called our workshops a successful. Though they weren't what we had anticipated in terms of a reduction in the expected size of the audience, and speakers not being able to attend, we are still grateful for the opportunity that propelled us into a position where we saw the need to help and motivate not only students, but young people and adults on a whole. A little motivation or inspiration, or even a bit of empowerment, goes a far way in reaching others. We may not know if we had impacted the lives of every person who attended our series of workshops, but we are proud and content in knowing we did impact the lives of many, and that is something we wish to continue to do in the years to come. The Jamaica Youth Motivators is not done yet: we are just getting started!
O'Neil R. Corinaldie
Director of Communications
Jamaica Youth Motivators